A/C is Never Cold Because of Leaky Condenser
Posted on

Author

Tagged
Key Points
The A/C condensors in many of GM's larger 2014-2017 vehicles don't work.
The systems suffer from water vapor freezing and craking the condensor and busted hoses.
It's so common there's a nationwide backorder on parts.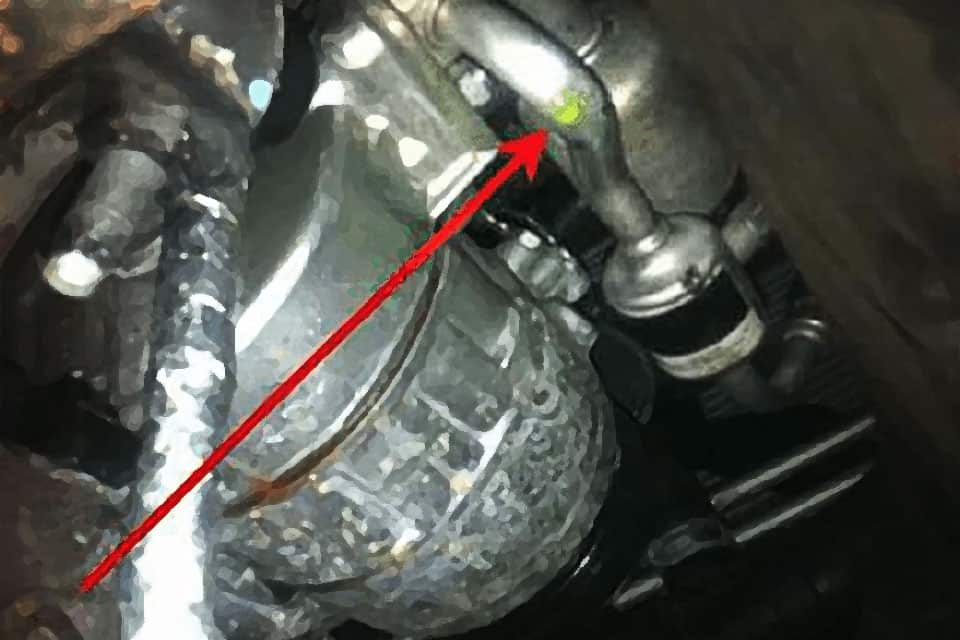 You can find these leak machines in large SUVs and trucks built on the GMT K2XX platform. This includes the 3rd generation Silverado 1500 and 11th generation Suburban.
Common Complaints About GM's HVAC Units ∞
Air conditioners only work when the systems are properly sealed to prevent refrigerent from escaping. And oh boy do these GM units have trouble keeping a proper seal.
A condensor that can't handle the pressure ∞
GM went with a condesor that is allegedly defective because it allows air to enter the system. Water vapor in that air will freeze and, as a December 2017 class-action lawsuit describes, cause backups that lead to excessive internal pressure.
"First, as air leaks into the system, water vapor in the air freezes into ice, blocking the circulation of coolant within the air conditioning system. As ice blocks the flow of coolant within the system, the fluid is forced out through the leak. Second, as coolant leaks out, the air conditioning system becomes less and less effective. When the evaporator no longer has enough coolant to absorb heat from the surrounding air, ice forms on and within the system, damaging it directly."
Parts supplier ACDelco has since discontinued this condendor, and in response GM offered additional warranty protection to some owners.
In a November 2017 mailing to owners GM said the condensors may have a condition where thermal cycling on the combination transmission fluid/oil and AC condenser cooler creates a crack that may allow refrigerant to escape. This condition consequently may deactivate the AC system.
Additional protections were offered to Chevy Suburban, Tahoe, and GMC Yukon owners for 5 years / 60,000 miles (whichever happens first), while Cadillac Escalade owners were given 6 years / 72,000 miles.
Despite using the same parts, the offer was not extended to Chevy Silverado or GMC Sierra owners.
Cracks in the hoses ∞
Another common breakpoint is a rubber hose connecting the compressor to the condensor. The hose is fitted to aluminum discharge tubes that are now known to flex when the vehicle is in motion. Think of it like two out-of-sync diving boards going up and down, and the rubber hose holding on for dear life.
Eventually that rubber hose will dislodge, or at the very least crack. And even the tinyest gap is enough to drain the system of the refrigent needed to turn a sweltering summer day into a tolerable one.
GM recommends hose replacements and brackets to limit flexing ∞
In October of 2014, GM informed technicians in a Technical Service Bulletin (TSB PIT5331) to replace the faulty line with a newly designed tube and to install a bracket (part #23264893) to minimize any flexing or movement.
"If the a/c line cracks, it may spray oil and refrigerant onto the a/c compressor, making the leak very hard to identify. To repair this condition and prevent it from reoccurring, replace the compressor to condenser line and install the line bracket shown below. After completing the repairs, recharge the refrigerant system and perform a leak test to verify proper operation."
Owners are required to pay for this work if the vehicle is out of warranty.
One of the plaintiffs in a class-action lawsuit wonders why he was never told about the $7.00 part that could have prevented his A/C issues in the first place. Instead, he had a busted hose and a decision to make on the required expensive repairs.
[The plaintiff] says the dealer charged $154.00 for the diagnosis and quoted the repair cost at $1367.17 to use GM parts. However, the dealer allegedly said it couldn't get the parts anytime soon, but repairs could be made with non-GM certified parts for $1663.75. Choosing this route would mean a wait of three months, something the plaintiff didn't want to do in the Florida heat.
A nationwide backorder on replacement parts ∞
Because of the high volume of failures, replacement parts have been on national backorder and can sometimes take months to receive once a claim is filed.
"I have been waiting to get my air conditioner fixed now for months and I keep getting told there are no Condensers available. I have talked with service writers at GM dealership's well as other Sierra owners and they all have the same problem for the most part."
And get this ... some say the newly designed discharge hose has an aluminum part that allegedly bursts under the pressure of the A/C system. Hot damn.
For those out of warranty, the repairs can cost between $150 and $2000 to fix the issues.
Lawsuits about the HVAC systems ∞
February 2018 – A proposed class-action lawsuit filed in Tennessee says the AC units typically fail the first time with the 36,000-mile warranty period, but owners have to wait for months because dealers cannot get replacement parts.
November 2017 – A proposed class-action in Florida says GM discontinued the defective condensor after issuing TSB PIE0340, but GM won't reimburse owners who've had to pay for repairs on the previous condensors.
Lawsuits Regarding This Problem
Lawsuits about this problem have already been filed in court. Many times these are class-action suits that look to cover a group of owners in a particular area. Click on the lawsuit for more information and to see if you're eligible to receive any potential settlements.
According to the lawsuit, more than 2 million trucks and SUVs in the U.S. share the same defective air conditioning designs and were built on a vehicle platform known as GMT K2XX.

A GM air conditioner compressor and condenser lawsuit alleges the AC systems fail and cause owners and lessees to lose cold air in the vehicles and money from their bank accounts.

GM air conditioning problems are caused by condensers and discharge lines, at least according to a proposed class-action lawsuit that includes the following long list of Cadillac, Chevy and GMC trucks and SUVs.
Generations Where This Problem Has Been Reported
This problem has popped up in the following Chevrolet generations.

Most years within a generation share the same parts and manufacturing process. You can also expect them to share the same problems. So while it may not be a problem in every year yet, it's worth looking out for.
3rd Generation Silverado 1500

Years

2014–2018

Reliability

77th out of 80

PainRank™

39.88

Complaints

586

Learn more about the 3rd Generation Silverado 1500

11th Generation Suburban

Years

2015–2020

Reliability

43rd out of 80

PainRank™

7.89

Complaints

120

Learn more about the 11th Generation Suburban
What Owners Say About This Problem
Very irritating, nauseating smell when using heat setting. First time I took it in the service tech said "oh, that's BAD, smells like antifreeze" and also noted the film on the windshield. Said it needed a new heater core. We couldn't get the part, had to pull it off an assembly line and it took about 2 weeks. They changed it and didn't help at all.
OK, Now What?
Maybe you've experienced this problem. Maybe you're concerned you will soon. Whatever the reason, here's a handful of things you can do to make sure it gets the attention it deserves.
File Your Complaint

CarComplaints.com is a free site dedicated to uncovering problem trends and informing owners about potential issues with their cars. Major class action law firms use this data when researching cases.

Add a Complaint

Notify CAS

The Center for Auto Safety (CAS) is a pro-consumer organization that researches auto safety issues & often compels the US government to do the right thing through lobbying & lawsuits.

Notify The CAS

Report a Safety Concern

The National Highway Traffic Safety Administration (NHTSA) is the US agency with the authority to conduct vehicle defect investigations & force recalls. Their focus is on safety-related issues.

Report to NHTSA