What's Up With Chevy's Engine Power is Reduced Warning?
Posted on

Author

Tagged
Key Points
Malibu and Cruze owners often see an "Engine Power is Reduced" warning message.
The mesage is followed by a sudden loss of power and limited acceleration.
Class-action lawsuits say GM is ignorning dangerous defects in electronic throttle controls sensors.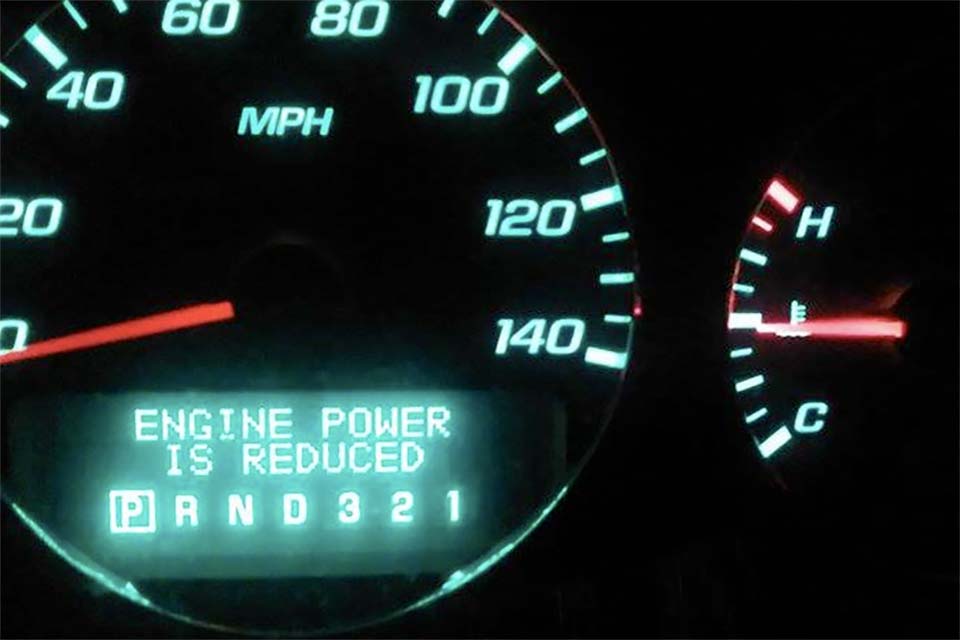 Owners of early model years in the 9th generation Malibu and 1st generation Cruze have been seeing a lot of warning messages telling them their car's "Engine Power is Reduced" which can quickly result in a loss of power and limited acceleration while driving.
It's downright dangerous as this 2016 Malibu owner can attest:
I can be in the freeway and full speed traffic and suddenly my car loses power almost causing me to be hit from behind. It's awful and it's dangerous and I have asked the Chevy dealerships about recalls. They want to charge me almost $500 just to check it out.
What's Triggering the Warning Message? ∞
The issue appears to be related to defects within the electronic throttle control and accelerator pedal sensors. The accelerator pedal and throttle are no longer physically connected by a cable like they were in old drive-by-cable systems. In their place is a complicated web of sensors and electronic control units (ECU) known as a drive-by-wire system.
These newer systems have their advantages but are known to cause delayed acceleration and are more prone to complicated electrical failures.
Warning is usually accompanied by these error codes ∞
A few common error codes for the pedal position sensors:
Code P0122 indicates the Switch A Circuit is Low in the throttle position sensor
Code P0223 indicates the Switch B Circuit is High in the throttle position sensor
Code P2138 indicates a defect within the D and/or E circuits of the throttle position sensor
Malibu Accelerator Sensor Lawsuits ∞
The accelerator pedal position sensor and electronic throttle controls are meant to last the lifetime of the vehicles. But so far GM's response has been terrible. Owners are usually left to pick up any repair bills even if error codes are triggered and point to a specific defect.
The automaker is facing multiple lawsuits as the plaintiffs say their cars are dangerous to drive for themselves and others on the road.
An investigation for another potential class-action lawsuit ∞
The law firm of Migliaccio & Rathod is currently investigating the 2016-2019 Chevy Malibu, the 2017-2018 Buick LaCrosse, and the 2018 Buick Regal for engine power reduction issues that results in unexpected deceleration, often at highway speeds. The problem appears attributable to a defective accelerator pedal sensor.
If your Chevy vehicle has experienced reduced engine power problems, please contact the lawyers at Migliaccio & Rathod by clicking here to fill out a short contact form.
---
Snail image courtesy on
Marian Beck
on
Unsplash.com
Lawsuits Regarding This Problem
Lawsuits about this problem have already been filed in court. Many times these are class-action suits that look to cover a group of owners in a particular area. Click on the lawsuit for more information and to see if you're eligible to receive any potential settlements.
A Chevy Malibu that allegedly suffered reduced engine power caused the owner to file a class action lawsuit that alleges all 2016-2018 Malibu cars have problems with the accelerator pedal sensors and electronic throttle controls.

A Chevy Malibu accelerator sensor lawsuit alleges the cars are equipped with defective accelerator pedal position sensors and/or faulty electronic throttle controls that cause messages that read, 'Engine Power is Reduced.'
Generations Where This Problem Has Been Reported
This problem has popped up in the following Chevrolet generations.

Most years within a generation share the same parts and manufacturing process. You can also expect them to share the same problems. So while it may not be a problem in every year yet, it's worth looking out for.
1st Generation Cruze

Years

2011–2015

Reliability

80th out of 80

PainRank™

48.27

Complaints

940

Learn more about the 1st Generation Cruze

9th Generation Malibu

Years

2016–2020

Reliability

44th out of 80

PainRank™

8.59

Complaints

117

Learn more about the 9th Generation Malibu
OK, Now What?
Maybe you've experienced this problem. Maybe you're concerned you will soon. Whatever the reason, here's a handful of things you can do to make sure it gets the attention it deserves.
File Your Complaint

CarComplaints.com is a free site dedicated to uncovering problem trends and informing owners about potential issues with their cars. Major class action law firms use this data when researching cases.

Add a Complaint

Notify CAS

The Center for Auto Safety (CAS) is a pro-consumer organization that researches auto safety issues & often compels the US government to do the right thing through lobbying & lawsuits.

Notify The CAS

Report a Safety Concern

The National Highway Traffic Safety Administration (NHTSA) is the US agency with the authority to conduct vehicle defect investigations & force recalls. Their focus is on safety-related issues.

Report to NHTSA