23,000 Trucks Recalled Because the Dang Seatbelts Might 'Fatigue' and Seperate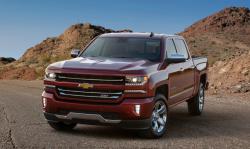 GM is recalling 23,000 vehicles because the a seat belt pretensioner cable may no longer be attached. The automaker had been monitoring the field for signs of pretensioner cables wearing down in 2014-2016 trucks and SUVs and monitoring warranty data, leading the automaker to open an internal investigation.
GM says the cables fatigue because the driver [can sit on the] pretensioner and cable guide in a sliding motion while entering the vehicle.
Let that be a lesson to us owners to … stop sitting in our cars?