Three Reports of Bolt EV Battery Fires Under Investigation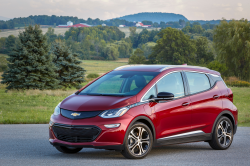 The National Highway Traffic Safety Administation (NHTSA) has opened a federal investigation into the 2017-2020 Bolt EV following three reports of fires while the cars were parked and unoccupied. All three reports seemed to have happened as the car was charging or parked with nearly a 100% charge.
The investigation will determine if the nearly 78,000 vehicles are too dangerous to drive or park in an enclosed structure.