Camaro Starters Are Melting Due to Inadequate Heat Shield Protection
TL;DR Lawsuit says the problem is rampant in 2010-present Camaros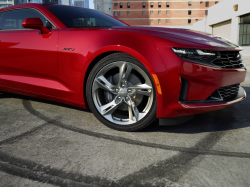 GM used heat shields that don't curve under the starters in the 5th and 6th generation Camaro, according to a new lawsuit. That leaves them exposed to heat and makes them completely unreliable.
The plaintiff says the problem is particularly noticable on hot days or after a long drive where the engine gets hot. The car has to cool down before an owner can start it back up.
Over time the lack of heat protection will melt the wires, damage the fuses, and create all sorts of electrical havoc to the starter's conductors.
The class-action says owners of the 2010-present Camaro shouldn't be on the hook for this repair.