460 Bolt EVs Recalled for Leaking Brake Calipers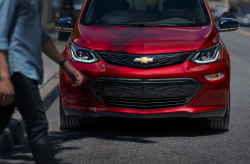 Chevrolet has recalled 460 Bolt EVs to fix leaky front-left brake calipers. The automaker believes the calipers weren't cast properly, allowing them to leak during hard stops. Losing brake fluid is never great, but the real concern is that the caliper could eventually fracture and no-one enjoys a sudden loss of braking power.
Recall Details ∞
The recall (#N202321400) is expected to begin on February 5th, 2021.
A GM service technican will inspect and replace the calipers if neccessary.