A Bolt EV Owner Cites Range Anxiety in His Lawsuit Against GM's Latest Recall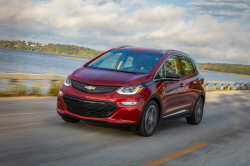 General Motors has been sued for last month's Bolt EV recall which temporarily limits the battery's capacity to 90%, bringing the car's range down from 238 miles to roughly 214. The plaintiff says the software update is giving him "range anxiety" and that's only heightened by the impending cold weather months which can also limit range. Last I checked, winter was going to happen regardless of the recall and it could just be me but I'd be more anxious about the possibility of my car catching on fire than losing 14 miles of range.
The suit says a battery replacement program would have been a more appropriate response and owners still might get that. GM plans on offering a more permanent solution in 2021 that will re-establish the car's original range. They just don't want our car catching on fire while they figure it out.