GM's Motion to Dismiss One of its Cracked Wheel Lawsuits Has Been Approved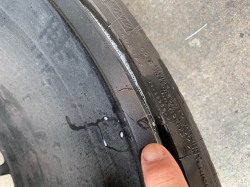 A judge has granted GM's motion to dismiss one of the cases alleging the automaker should reimburse C7 Corvette owners for cracked and warped wheels.
The lawsuit claims GM is breaching its warranty by blaming any instances of cracked wheels on owners driving habits. But the plaintiff made a few key mistakes:
By blaming the design, the plaintiff technically never provided a plausible claim to his breach of express warranty accusation since the warranty only covers only covers defects "due to materials or workmanship." 🙄
The plaintiff had his wheels repaired at a 3rd party before contacting GM and asking for a reimbursement while the warranty "requires a customer to go to a Chevrolet dealer facility within the warranty period and request[ed] the needed repairs."
Which is to say, the case is being thrown out on technicalities but not merit.
But the legal fight is not over. Complaints from owners continue to rise and there's a promising consolidated class-action coming out of Michigan. Stay tuned.
GM went with cast aluminum wheels over a stronger forged option for its 7th generation Corvette. Now that owners are having issues with warping and cracking, the automaker is telling them to stop hitting potholes instead of honoring its war