Why You Might Suddenly Lose Power Steering in a 2015 Chevy Colorado
Posted on

Author

Tagged
Key Points
The 2015 Chevy Colorado and GMC Canyon can suddenly lose their power steering assist.
The trucks have an unprotected electrical connection between the electric power steering motor and torque sensor in the steering gear assembly.
A recall announced in April 2021 will replace the torque sesnor cover and apply anti-corrosion gel to the electrical connection.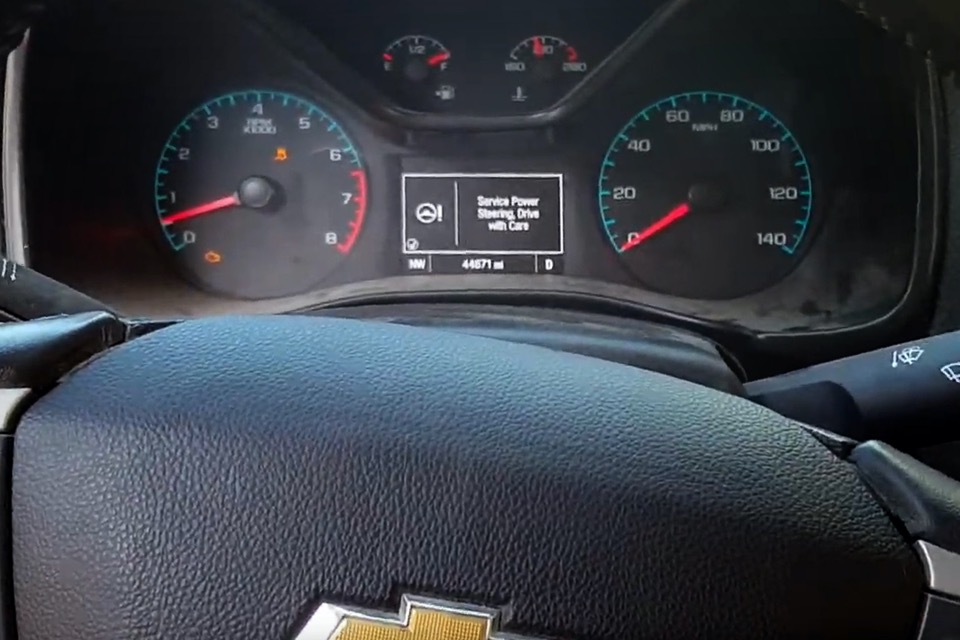 Poor electrical connections inside the steering gear assemblies of the 2015 Chevy Colorado can cause the truck to lose its power steering. While the connection can drop out while driving, most owners report seeing a service power steering, drive with care message shortly after starting the truck.
Common DIY solutions have included restarting the truck or wiggling the steering wheel until the message goes away. Not exactly the most confidence-boosting fixes.
Corroded Steering Gear Connections Are Disabling the Power Steering ∞
Early versions of the steering gear assemblies have a connector between the electric power steering motor and torque sensor that is suceptible to corrosion and other damage. The assemblies were provided by Mando America Corporation and installed in the 2015 Colorado and it's cousin the 2015 GMC Canyon.
If that connection is interupted:
The power steering system won't work and vehicle reverts to manual steering
A warning message will be displayed in the Driver Information Center (DIC).
One of the following codes may be logged into the truck's computer: C0800,U0073, U0102, U0109, U0140.
This short video shows how the message pops up when starting the truck. Warning, some language NSFW 😂
A sudden loss of power steering ∞
A sudden loss of power steering can be a jarring experience, particularly at low speeds where you'll get quite a workout turning such a heavy vehicle without any assistive technologies.
Corrections made for the 2016 model year ∞
Mando America started using gold-plating and anti-corrosion gel to protect the electrical connection in any truck built after May 22nd, 2015
Customer Satisfaction Program ∞
In June of 2018, GM announced a "customer satisfaction program" for certain 2015 Colorado and Canyon trucks.
GM confirmed that the connection between the power steering motor and torque sensor has a potential for fretting corrosion and recommends technicians replace the complete power steering rack assembly for any customer complaining about the problem.
Additionally, any unsold trucks needed to be inspected and repaired before being sold.
The program expired on June 30, 2020 which means any owner that didn't know about it, didn't complain about it to a dealership, or experienced the problem afterwards suddenly found themselves staring down a large repair bill.
Power Steering Assemblies Recalled in April 2021 ∞
In April of 2021, GM announced they'd be recalling 65,000 trucks with poor electrical connections inside the steering gear assemblies.
Unlike the satisfaction program which replaces the whole steering rack assembly, the recall repair involves replacing just the steering gear torue cover sensor assemblies and using anti-corrosion gel on the connectors.
Some owners worry this doesn't go far enough, but it is better than nothing for owners experiencing the problem after the program's deadline passed.
The recall (#N202325410) covers 60,600 trucks in the US and 5,000 in Canada, and starts on May 10, 2021.
Generations Where This Problem Has Been Reported
This problem has popped up in the following Chevrolet generations.

Most years within a generation share the same parts and manufacturing process. You can also expect them to share the same problems. So while it may not be a problem in every year yet, it's worth looking out for.
2nd Generation Colorado

Years

2013–2021

Reliability

55th out of 80

PainRank™

12.41

Complaints

303

Learn more about the 2nd Generation Colorado
Further Reading
A timeline of stories related to this problem. We try to boil these stories down to the most important bits so you can quickly see where things stand. Interested in getting these stories in an email? Signup for free email alerts for your vehicle over at CarComplaints.com.
What Owners Say About This Problem
Started my 2015 Colorado last night Jan 21, 2019 and the dash showed power steering loss. Could not use my truck, steering did not work. Next morning everything was ok. There should be something we could do about this. My vin is not on the recall list and I only have 26,000 miles on my truck. General Motors should be taking care of this problem.
Loss of Power Steering is NO JOKE! Lost power steering (plus ABS, Stablitrak) traveling down the highway. I thought I'd crash when I realized it didn't steer like my old '69 with manual steering. If I didn't have the arm strength to limp to where I was going, I would have been calling for roadside assistance. I can't imagine what might have happened if the failure occurred while I was in a turn.
Lost power steering and was 68 miles from home. Drove home and had to fight the steering all the way. Took truck into dealers today and they checked it out and said that my electric power steering units was out and I'm now stuck with a total bill of $1920.00.
OK, Now What?
Maybe you've experienced this problem. Maybe you're concerned you will soon. Whatever the reason, here's a handful of things you can do to make sure it gets the attention it deserves.
File Your Complaint

CarComplaints.com is a free site dedicated to uncovering problem trends and informing owners about potential issues with their cars. Major class action law firms use this data when researching cases.

Add a Complaint

Notify CAS

The Center for Auto Safety (CAS) is a pro-consumer organization that researches auto safety issues & often compels the US government to do the right thing through lobbying & lawsuits.

Notify The CAS

Report a Safety Concern

The National Highway Traffic Safety Administration (NHTSA) is the US agency with the authority to conduct vehicle defect investigations & force recalls. Their focus is on safety-related issues.

Report to NHTSA