The Corvette's Frunk Has Been Recalled For Two Major Safety Issues
TL;DR

The C8 Corvette's front trunk (or frunk) has already been recalled twice. First for failing to meet federal safety standards for an internal release mechanism and then a couple weeks later for flying open while driving down the road. Now owners are wondering ... what'll go wrong next?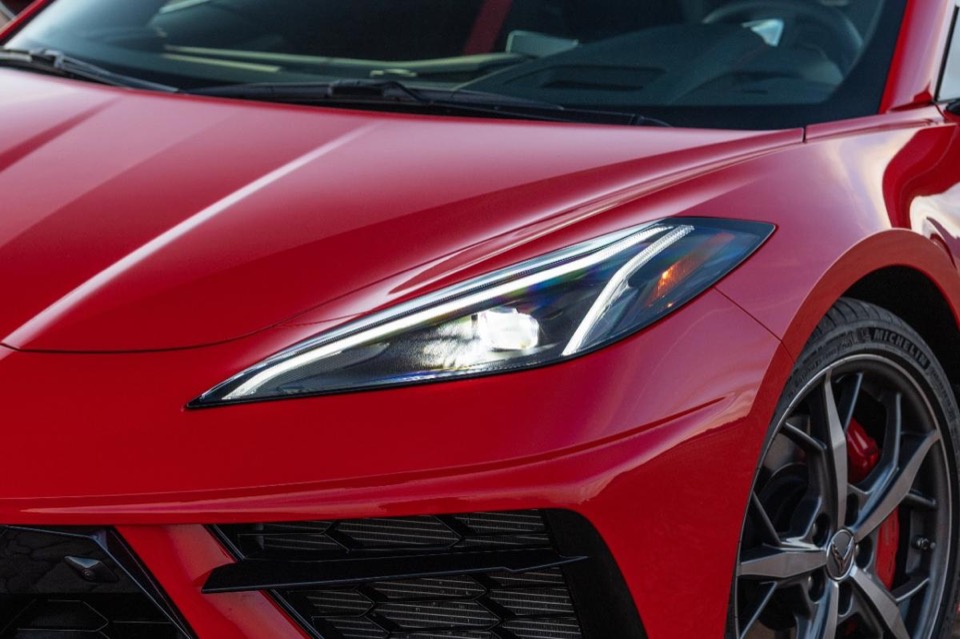 The problems are being blamed on software bugs related to how the frunk is released, both internally and with a key fob. Because it's software, GM believes the 8th generation sport car can be fixed with a series of over-the-air (OTA) software updates.
To be clear, owners can go to a dealership to receive these updates but OTA means you don't have to struggle through a cup of car dealership lobby coffee while you wait.
Frunk Can Trap Someone After 10 Minutes ∞
Every trunk, or in this case frunk, has an interior release mechanism as required by law[1]. Most of these latches are mechanical but the 8th generation Corvette uses an electric button instead.
That works fine until the car enters it's low-power mode which is roughly 10 minutes after the ignition is shut off.
At that point the electronic release button doesn't have enough voltage to wake the car from its sleep or open the frunk on its own. That's a big problem for parents of small children because you just know those little buggers are going to find a way to get themselves locked in there.
An internal investigation determined that the voltage generated by the electronic release button was insufficient to wake the vehicle from sleep mode, potentially leaving someone trapped inside.
Recall to make it easier to wake the car from sleep mode ∞
Without a backup mechanical latch the car's failed to meet federal safety regulations, so on August 20th, 2020 GM issued a recall to lower the voltage required to wake the vehicle from its sleep mode.
Frunk Flings Open While Driving ∞
On the flip side, drivers started complaining about a brown-pants moment where the frunk would fly open as the car was driving down the road.
The problem appears to be related to owners accidentally pressing the key fob and releasing the frunk latch while they were parked. They then drive away and ignore the very visible and audible warning that their frunk is open.
One quick acceleration or gust of wind and WHOOPS goodbye visibility
Owners ignorning the warning messages? ∞
The frunk has three positions – fully closed, partially open to allow for tricke-charging without crimping the wires, and fully open. If someone puts the car into the drive and the frunk is not in the fully closed position there will be a visible and audible warning presented.
GM found that owners who complained about the frunk flying open also had their music playing and missed the message.
This seems like a combination of driver error and a slightly inadequate warning system.
Recall to make it harder to accidentally open the frunk. ∞
Less than two weeks after the initial recall, GM issued a second OTA update that makes some key changes to the frunk software.
First, opening the frunk with the key fob will now require a longer press to cut down on the number of accidental opening.
Second, the car's software will limit the driver's speed to 26mph if the frunk is open. There are arguments to be made that this should be even slower, but it's a good start.
---
Problem Timeline
Chevrolet Generations Where This Problem Happens
This problem has been reported by owners of the following generations. While there's no guarantee it affects all the listed model years, most years within a generation share the same parts, manufacturing processes, and problems.
PainRank™

N/A

Complaints

Years
What Owners Say About This Problem
While driving the 2020 Corvette at a low speed, the front hood flew open and impaired my visibility ... They failed to engineer the appropriate safety latch features into the hood that would prevent this from happening. Hoods are required to have a secondary latch that must be physically operated to open completely.
OK, Now What?
Maybe you've experienced this problem. Maybe you're concerned you will soon. Whatever the reason, here's a handful of things you can do to make sure it gets the attention it deserves.
File Your Complaint

CarComplaints.com is a free site dedicated to uncovering problem trends and informing owners about potential issues with their cars. Major class action law firms use this data when researching cases.

Add a Complaint

Notify CAS

The Center for Auto Safety (CAS) is a pro-consumer organization that researches auto safety issues & often compels the US government to do the right thing through lobbying & lawsuits.

Notify The CAS

Report a Safety Concern

The National Highway Traffic Safety Administration (NHTSA) is the US agency with the authority to conduct vehicle defect investigations & force recalls. Their focus is on safety-related issues.

Report to NHTSA
More Information About The Affected Models
PainRank™

6.29

Complaints

203

Reliability

14th out of 40