The Corvette's Frunk Doesn't Meet Latch Safety Standards
TL;DR A recall has been issued to make the electric release button works at all times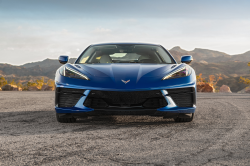 The 8th generation Corvette has a front trunk, sometimes referred to as a frunk. Despite the name change the frunk is still required to have an internal release mechanism in case your kid climbs into the frunk and gets themselves locked inside.
The Corvette does have a release mechanism but it's an electric button instead of a physical latch. And an auditor found that the button stops working once the car enters "sleep" mode which is roughly 10 minutes after the engine is shut off.
The issue is being recalled because that violates federal safety standards. GM says they can fix the issue via an over-the-air software update or, if you enjoy the taste of car dealership lobby coffee, you can bring your car in and get the software installed for free.
The C8 Corvette's front trunk (or frunk) has already been recalled twice. First for failing to meet federal safety standards for an internal release mechanism and then a couple weeks later for flying open while driving down the road. Now ow