Faulty Ignition Switch Can Cut Off Power and Disable Airbags
Posted on

Author

Tagged
Key Points
A 2014 recall for faulty ignition switches affected over 1.6 million vehicles.
Ignitions were turning off while people were driving, causing a sudden loss of power.
The problem has been linked to 13 deaths in the USA.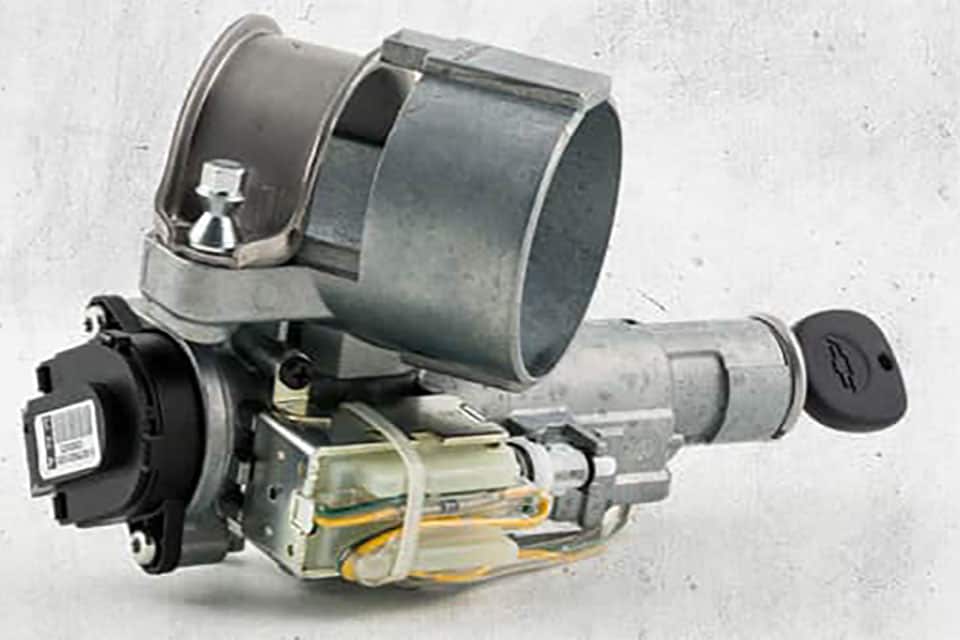 The recall was followed by members of Congress asking for an investigation into whether GM broke any laws while waiting so long to inform the public. By October of 2018 the federal case was dropped because of GM's "good behavior."
Owners who disagree with that behavior assessment can still sue the automaker.
The Recall and Recall Expansion ∞
In February, 2014, GM finally announced a recall of 780,000 vehicles for the ignition switch problem, expanding it to over 1 million vehicles just a couple weeks later. According to documents filed to the National Highway Traffic Safety Administration (NHTSA) , the problem is caused by the torque performance of the ignition switch.
Customers who have previously had their ignition switch repaired will be reimbursed[1], but still need to have their ignitions replaced again as part of this recall.
The Affected Vehicles ∞
GM plans[2] to provide loaner cars to those affected by the recall.
The Ignition Switch Problem ∞
The problem is with the ignition switch[3] which can get knocked out of place by a heavy key chain or in the event of an accident. When that happens it can cause the car to stall, disabling electrical systems and the car's airbags. That's exactly what happened in 31 known accidents that led to 13 front-seat fatalities.[4]
Natasha Weigel and her friend, Amy Rademaker, 15, were riding in a 2005 Chevy Cobalt when the car suddenly lost power and slammed into trees on a rural Wisconsin road on Oct. 24, 2006. Amy tragically died four hours and 33 minutes after the crash, while Natasha Weigel lingered for 11 days in a coma.
Everyone agrees, if you have one of the affected cars you need to get it fixed as part of the recall and minimize the weight of your keychain until then.
A Decade in the Making ∞
As Jake Fisher[5] of Consumer Reports pointed out to NPR's Morning Edition this recall is unique:
"A lot of times recalls include "this may happen" but basically this recall it's not a 1-in-a-million defect, they all have this defect, it's just a matter of time under the right circumstances that can actually turn the ignition off and cause this to happen.
The other thing that is peculiar about this recall is the timeline. GM appeared to have known about this problem for a decade before finally issuing a recall in February, 2014.
Car companies like GM are getting all sorts of information from its internal engineers, dealers, parts suppliers and from customers through sites like CarComplaints.com. In a perfect world as soon as a manufacturer receives information about a potential safety defect, they would investigate the issue and, if a problem exists, issue a recall to protect its customers. Unfortunately this isn't a perfect world.
GM has acknowledged that its engineers first experienced issues with the ignition switches in 2004. A redesign to the ignition system was approved in 2005, but later cancelled.
"New" GM versus "Old" GM ∞
GM's new CEO, Mary T. Barra, is doing everything she can to distinguish the "old" pre-bailout GM from the "new" GM. I wonder how that's going?
To be fair, Ms. Barra has owned up to the problem. She admitted that she first learned of internal safety committees analyzing the ignition switches in late December, 2013 but she says she wasn't aware of how serious the problem was until January 31, 2014.
"Our goal is to make sure that something like this never happens again," she said.
To date, Ms. Barra hasn't dismissed or disciplined any GM employees who knew of this problem for years, stating that she's waiting for all the facts to come in[6]. She appointed long-time employee, Jeff Boyer, as the company's first vice president in charge of global vehicle safety.
GM's Rebate Offer and Sales Figures ∞
Following the recall announcement, GM released an [internal memo][1:1] to dealers on how to deal with unhappy or concerned customers. The memo outlines the terms of a [limited-time][7] $500 rebate which is only good towards the purchase of a new, un-recalled vehicle.
What if customer indicates they do not feel safe and would like their vehicle bought back?
"General Motors is not offering repurchase as a remedy. To assist dealers in helping customers who are involved in this recall that request assistance, we are announcing a special cash allowance in the amount $500 ... We ask that Dealers do not market to or solicit these customers either."
So let's break it down. If you're unhappy with your death-trap of a vehicle, GM will help you out if:
You buy a new, more-expensive GM vehicle
Do it by April 30, 2014 -- giving you less than two months from the start of the rebate offer
Learn about it through some other means other than your local dealership, who isn't supposed to talk about it.
This "new" GM sounds a heck of a lot like the "old" GM.
People Keep Buying these Recalled Cars Anyway ∞
Despite all of this, according to an article on CNNMoney car shoppers haven't been scared away from these vehicles at all. Citing data from sales and price trackers like Kelley Blue Book and Cars.com, the article states that used inventory of the recalled vehicles continues to attract consumer interest and in some cases prices have gone UP!
Let me state that again, just in case you missed it: despite a massive recall tied to 13 deaths, prices and consumer interest in these vehicles has actually risen.
"The cars are not very expensive to begin with. On average, they have about 100,000 miles on them, so they usually cost between $4,000 to $8,000, said Kelley analyst Alec Gutierrez.
"People shopping these cars are shopping for bargains," he said. "These prices tend to move pretty broadly, and pretty slowly."
Perhaps that's why Senator Richard Blumenthal (D-Conn.) urged GM to warn owners to stop driving and potential owners to stop buying these vehicles until they're fixed[8].
"I urge you to issue a stronger warning to drivers of recalled vehicles of the acknowledged risk they are facing, including a warning not to drive recalled cars. This warning should be issued as soon as possible — in advance of your testimony before the subcommittee," Blumenthal wrote, saying the vehicles pose a "present urgent danger."
A Series of Investigations ∞
The law requires a manufacturer to issue a recall if it knows a safety-related defect exists. And this means the manufacturer can't play ostrich either -- they can't uncover a problem only to stick their heads in the ground and pretend like it doesn't exist. But that's exactly what they did, prompting former head of the NHTSA to call it an "immoral act"
"This is an immoral act by General Motors to cover up this defect, not tell people and then the result was inevitable, that people were going to die and be injured and that to me is unconscionable. It's like throwing an airplane passenger out without a parachute."
A House committee opened their own investigation and was quickly followed by the Justice Department, who opened a criminal investigation into if GM knowingly put consumers in harms way. It is unclear whether any of the inquiries will lead to charges against G.M. If the prosecutors in New York are unable to prove criminal liability, they could pursue civil charges instead.
Test Time: Taking GM Back to School ∞
General Motors might have been known as "Government Motors" after receiving billions of dollars in bailout money, but their old-buddy-old-pal might now be asking for $35 million back if GM failed to follow recall regulations.
The NHTSA sent GM a "special order" 27-page document with 107 specific questions about the history of the ignition switch problem. The questions, which must be answered under oath by April 3, cover everything from lawsuits related to the problem to internal memos. Among their requests:
A detailed explanation of how GM's examination process "was not as robust as it should have been," as GM's North American president, Alan Batey, stated as part of an apology to the public, and how GM plans to improve such processes.
Information showing why a redesign to the cars' ignition key was approved in 2005 but later canceled without being implemented.
Did NHTSA Ignore The Safety Defect? ∞
Meanwhile, while NHTSA is asking GM questions they might have a few of their own to answer. The Center for Auto Safety (CAS) wants to know why didn't NHTSA take action years ago after receiving complaints of airbags failing in many GM vehicles?
CAS did an investigation of the government's Fatal Analysis Reporting System (FARS) --- I hope you don't mind acronyms --- and found 303 fatalities in some of the cars that were recalled for ignition switch problems. The CAS says in every case the airbags failed to deploy, although not all are attributed to a problem with the ignition switch.
CAS says NHTSA should have opened an investigation years ago because there's no way they didn't know of the defect. In fact, according to Clarence Ditlow, executive director of the Center for Auto Safety:
"...the only way NHTSA could not see a defect trend is if it closed its eyes."
Them's fightin' words.
Class-Action Lawsuits Begin ∞
Hagens Berman[9], a consumer law firm, opened an investigation into these serious defects in late March, 2014.
"Hagens Berman believes that the families and loved ones of customers who lost their lives due to this oversight deserve retribution, and that those who have endured dangerous and potentially deadly safety flaws in their vehicles have been done a great disservice by a major corporation."
GM owners who have experienced issues with their electrical systems shutting down or have had other problems with their vehicles can contact Hagens Berman.
""We want to understand why G.M. didn't warn drivers who were still operating the defective system" said Rob Carey, an attorney with Hagens Berman.
Don't we all, Rob. Don't we all.
The GM Ignition Switch Timeline ∞
2004: GM engineers first uncover a problem with the ignition switch
2005: A redesigned ignition switch was approved by GM, but later cancelled.
February 13, 2014: GM issues its first recall of 780,000 Chevrolet, Pontiac and Saturn cars for ignition switch problems and says it knows of 23 accidents where the airbag failed to deploy with 6 front-seat fatalities.
February 25, 2014: GM expands the recall to include a total of 1 million cars and admits they actually know of at least 31 accidents with 13 front-seat fatalities.
February 26, 2014: A day after the expanded recall, Joan Claybrook, former head of the NHTSA, says GM committed an immoral act
March 5, 2014: GM released a memo to dealers on how to deal with unhappy, frustrated or concerned customers. Including the offer of a limited-time[7:1] $500 rebate.
March 6, 2014: The NHTSA sends GM a "special order" with 107-questions it wants answered, under oath, by April 3, 2014.
March 11, 2014: The Justice Department begins a criminal investigation into General Motors decade-long failure to issue a recall.
March 13, 2014: Clarence Ditlow, executive director of the Center for Auto Safety, writes a letter the acting NHTSA administrator criticizing the agency for not detecting a trend in airbag failures.
March 17, 2014: Hagens Berman, the law firm that settled the $1.6 billion lawsuit against Toyota in 2013, opened an investigation into a possible class-action lawsuit against GM.
March 24, 2014: Fearing that they won't have enough replacement parts until October 2014, GM announced they will provide loaner cars[2:1].
March 27, 2014: The lawfirm of Chimicles & Tikellis filed a class action lawsuit[10] against GM seeking "recourse for consumers in the wake of a recall of some 1.6 million vehicles"
April 4, 2014: Bob Hilliard, a Texas lawyer representing a class action group suing GM, will present an emergency notion to U.S. District Judge Nelva Gonzales Ramos to order all recalled vehicles off the road until they're fixed.[8:1]
April 30, 2014: GM's offer of a $500 rebate towards the purchase of a new, un-recalled vehicle expires.
---
---
Generations Where This Problem Has Been Reported
This problem has popped up in the following Chevrolet generations.

Most years within a generation share the same parts and manufacturing process. You can also expect them to share the same problems. So while it may not be a problem in every year yet, it's worth looking out for.
1st Generation Cobalt

Years

2005–2010

Reliability

70th out of 80

PainRank™

31.78

Complaints

1054

Learn more about the 1st Generation Cobalt

1st Generation HHR

Years

2006–2011

Reliability

63rd out of 80

PainRank™

18.7

Complaints

575

Learn more about the 1st Generation HHR
Further Reading
A timeline of stories related to this problem. We try to boil these stories down to the most important bits so you can quickly see where things stand. Interested in getting these stories in an email? Signup for free email alerts for your vehicle over at CarComplaints.com.
**Th

federal case against GM's handling of their ignition switch recall might be over, but a judge has left the door open for owners to sue the automaker for economic losses if they want. Judge Jesse Furman ruled on claims of "manifest defects," or what claims can proceed based on if the defect manifested itself to a customer. The consolidated lawsuit is a massive 1,700 pages of arguments that GM should pay any vehicle owner who owned a recalled car equipped with bad ignition switches.

If you own (or have owned) one of the affected cars, this judge says you should be able to sue GM even if problems related to the ignition switch never affected you personally.

Normally I'd say there's no way that'll hold up in court … but it just did.

keep reading

article "The Government Can't Sue GM Anymore, But You Still Can"

GM is recalling every single current-generation Camaro, all 511,528 of them, because of an ignition switch issue similar to the one that already killed 13 people.

Or 74 or more depending on who you ask.

The driver's knee can bump into the key fob causing it to inadvertently move the ignition out of the 'run' positon. Once that happens you're like Popeye without spinach -- just a bunch of flabby muscles you can't use.…

keep reading

article "GM Wants Everyone to Bring Back Their Camaros"
OK, Now What?
Maybe you've experienced this problem. Maybe you're concerned you will soon. Whatever the reason, here's a handful of things you can do to make sure it gets the attention it deserves.
File Your Complaint

CarComplaints.com is a free site dedicated to uncovering problem trends and informing owners about potential issues with their cars. Major class action law firms use this data when researching cases.

Add a Complaint

Notify CAS

The Center for Auto Safety (CAS) is a pro-consumer organization that researches auto safety issues & often compels the US government to do the right thing through lobbying & lawsuits.

Notify The CAS

Report a Safety Concern

The National Highway Traffic Safety Administration (NHTSA) is the US agency with the authority to conduct vehicle defect investigations & force recalls. Their focus is on safety-related issues.

Report to NHTSA