Which Chevy Vehicles Have Dangerous Takata Airbags?
Posted on

Author

Tagged
Key Points
The Takata airbag recall is the largest automotive recall in U.S. history with more than 100 million vehicles affected worldwide.
The inflators become unstable over time and can rupture / explode during an airbag deployment, shooting metal fragments into the cabin.
The problem is responsible for at least 27 deaths worldwide.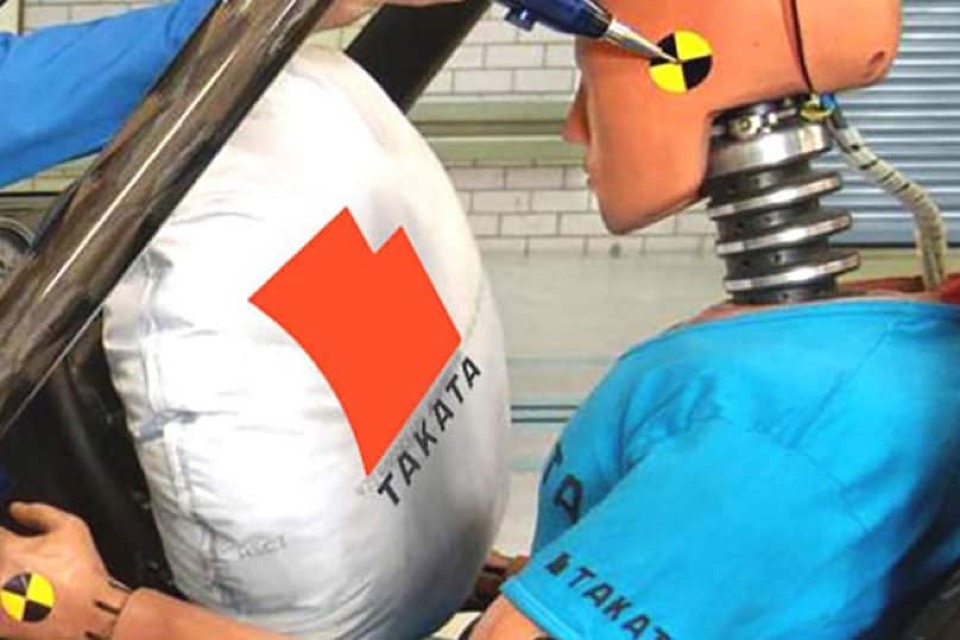 Takata's inflators use a chemical called ammonium nitrate to inflate the airbag during a crash. The ammonium nitrate can become unstable when exposed to temperature fluctuations or high humidity, causing the inflators to explode with an unexpected amount of force. How much force? Enough to rupture the metal cannister during a deployment and spray sharp fragments out into the cabin during a crash.
Accornding to the National Highway Traffic Safety Administration (NHTSA), at least 15 drivers have been killed and 250 people injured by an exploding Takata inflator.
Which Chevy Vehicles Have Been Recalled? ∞
Given the scope of these recalls, NHTSA decided to spread out the recalls to get replacements to owners in the highest-risk regions or zones first. The last wave of inflator-related recalls is expected to begin in early 2020.
A zone is a group of states and territories where a vehicle was originally sold or registered at some point in time.
Zone A: Alabama, California, Florida, Georgia, Hawaii, Louisiana, Mississippi, South Carolina, Texas, Puerto Rico, American Samoa, Guam, the Northern Mariana Islands (Saipan) and the U.S. Virgin Islands.
Zone B: Arizona, Arkansas, Delaware, District of Columbia, Illinois, Indiana, Kansas, Kentucky, Maryland, Missouri, Nebraska, Nevada, New Jersey, New Mexico, North Carolina, Ohio, Oklahoma, Pennsylvania, Tennessee, Virginia and West Virginia.
Zone C: Alaska, Colorado, Connecticut, Idaho, Iowa, Maine, Massachusetts, Michigan, Minnesota, Montana, New Hampshire, New York, North Dakota, Oregon, Rhode Island, South Dakota, Utah, Vermont, Washington, Wisconsin and Wyoming.
| Make | Model | Years | Limited To |
| --- | --- | --- | --- |
| Chevrolet | Avalanche | 2007-2011 | (pending) |
| | Camaro | 2015 | |
| | Equinox | 2015 | |
| | Malibu | 2015 | |
| | Tahoe | 2007-2011 | (pending) |
| | Silverado 1500 | 2007-2011 | (pending) |
| | Silverado 2500 | 2007-2008 | |
| | | 2009-2011 | (pending) |
| | Silverado 3500 | 2007-2008 | |
| | | 2009-2011 | (pending) |
| | Suburban | 2007-2011 | (pending) |
Other GM vehicles with recalled Takata inflators include Buick, Cadillac, GMC, Pontiac, Saab, and Saturn.
Take Action ∞
Owners of these vehicles are urged to call the National Highway Traffic Safety Administration (NHTSA) safety hotline at 1-888-327-4236 or visit this site for more information.
"Consumers that are uncertain whether their vehicle is impacted by the Takata recalls, or any other recall, can contact their manufacturer's website to search, by their vehicle identification number (VIN) to confirm whether their individual vehicle has an open recall that needs to be addressed."
Generations Where This Problem Has Been Reported
This problem has popped up in the following Chevrolet generations.

Most years within a generation share the same parts and manufacturing process. You can also expect them to share the same problems. So while it may not be a problem in every year yet, it's worth looking out for.
Further Reading
A timeline of stories related to this problem. We try to boil these stories down to the most important bits so you can quickly see where things stand. Interested in getting these stories in an email? Signup for free email alerts for your vehicle over at CarComplaints.com.
**Th

2016 Chevy Malibu has been recalled for Takata airbags, but it's not what you think. Takata reported two instances of stud weld fractures of the inflator modules during routine testing. However, the inflators weren't produced by Takata.

Another airbag supplier welded the studs --- poorly, I might add --- before shipping them to Takata. A fractured weld means the airbag will probably deploy out of position in a crash.

That stinks, but it's better than other Takata airbag problems.

keep reading

article "Malibu Recalled for Takata Airbags, But It's Not What You Think"
OK, Now What?
Maybe you've experienced this problem. Maybe you're concerned you will soon. Whatever the reason, here's a handful of things you can do to make sure it gets the attention it deserves.
File Your Complaint

CarComplaints.com is a free site dedicated to uncovering problem trends and informing owners about potential issues with their cars. Major class action law firms use this data when researching cases.

Add a Complaint

Notify CAS

The Center for Auto Safety (CAS) is a pro-consumer organization that researches auto safety issues & often compels the US government to do the right thing through lobbying & lawsuits.

Notify The CAS

Report a Safety Concern

The National Highway Traffic Safety Administration (NHTSA) is the US agency with the authority to conduct vehicle defect investigations & force recalls. Their focus is on safety-related issues.

Report to NHTSA